Swedish Meatballs (Kottbullar)
Becwil75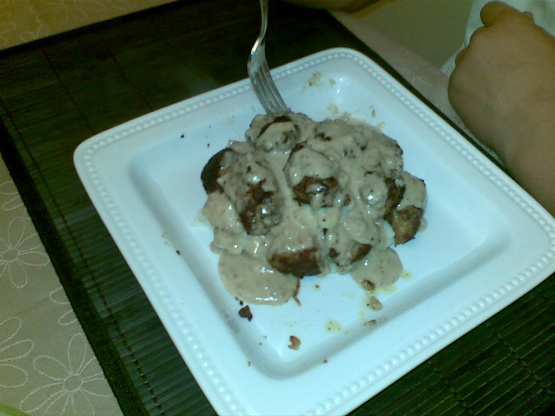 A genuine, and one of the most quoted Swedish recipes for meatballs. With a few variations, it is found in almost every Swedish cookbook. This variety of meatballs is always served hot, with cream sauce and mashed potatoes, in contrary to the small ones served cold that one finds on the Smorgasbord. At Christmas, some Swedes like a little "Christmas touch" and add a little allspice and ginger. If you're really ambitious, you'll buy whole meat and grind it yourself. It makes a great difference!

Top Review by Bergy
These are indeed great Swedish Meatballs! I have never seen The touch of Soy sauce used but it is very good. I think one secret of good Swedish meat balls is to have the ground meat very finely ground - I had my butcher do it especially for me. I did cut back on the heavy cream and only used milk (I know that means it is not authentic but I do have to watch that fat). Next time I will double the meat ball recipe and frezze them then just make the sauce when I want to serve them. As you said also great appetizers (made small) Thanks Andre
Fry the onion light yellow in a little butter.
Soak the breadcrumbs in the liquid.
Mix everything well and add spices to taste.
Make 1- to 1 1/2-inch meatballs with the help of two wet spoons.
Put them on a plate coated with a little flour and fry them slowly on all sides in lots of butter (putting the meatballs in the freezer for a while before frying makes them firmer).
Place the meatballs on a hot plate, fry the flour in the remaining fat and pour in the stock and the cream.
Boil for a few minutes.
Add soy, salt and pepper to taste and pour the hot sauce over the meatballs.
Serve hot with mashed potates, pickled cucumber and preserved lingonberry or cranberry.