Swedish Creamed Potatoes With Dill
Bayhill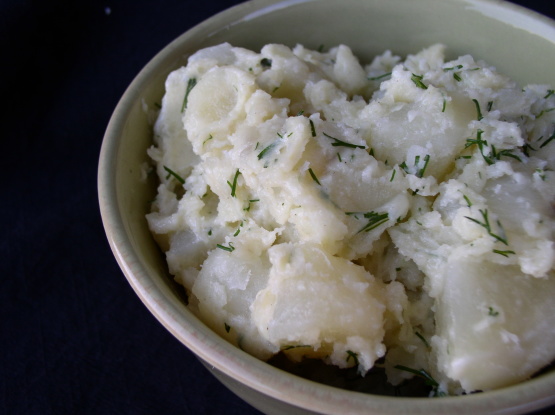 From Scandinavianfood.about.com. An option is to sprinkle in 1/4 cup crisply fried bacon and serve in lieu of baked potatoes with steak or fish.
Boil whole, unpeeled potatoes in unsalted water until fork-tender. Remove and allow to sit until cool enough to touch. Peel potatoes, then chop into 1" dice.
In a saucepan over medium-high heat, stir together butter and flour to make a light roux, but do not allow to darken. Add cream, salt, and pepper and whisk steadily until incorporated and thickened into a cream sauce, about 5 minutes. Stir in potatoes, turn heat to medium-low, and allow potatoes to stew just until warmed. Garnish with chopped dill and serve.