Suzanne's Caramel Oatmeal Bars
Zaney1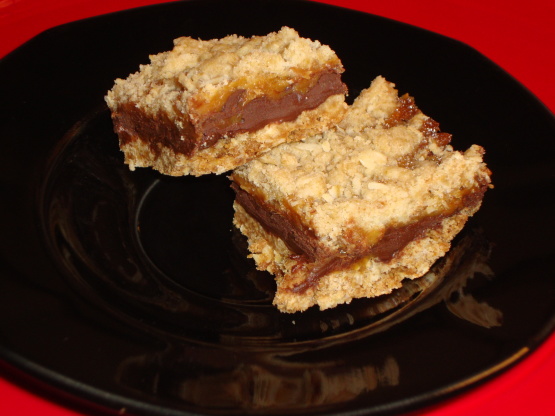 I received these from my Christmas Bake exchange and I just love these little treats! Thanks Suzanne for sharing the recipe with me.

5 stars plus more!! I have made many other caramel bar recipes that use the caramel ice cream topping instead of the real caramels and this one is way better. I love the fact that I can actually taste the caramel. The other recipes are good, but I couldn't taste the caramel in them. And I was never really happy with the outcome. This one baked up great and the caramel was soft. I baked the crust for 10 mins added the chips, caramel and topping and baked for 15 additional mins. Before I baked it I pressed down the topping so it would not be as crumbly when we ate them. I did double the oatmeal crust part but kept the caramels to the original amount and still baked it in the 9x13 pan. I will use this recipe as my #1 caramel oatmeal bar recipe. It was fabulous.
Press half of oatmeal mixture into a 9 x 13 pan Bake at 350° for 10 to 15 minutes.
Remove from oven and sprinkle on enough chocolate chips to cover.
Then top with caramel mixture, then remaining oatmeal mixture.
Bake another 15-18 minutes.
Cool and cut.