Maggie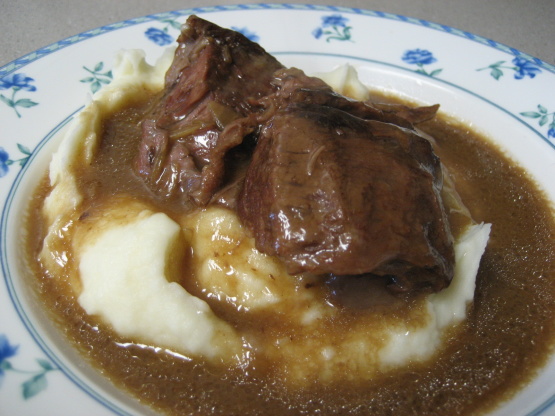 This is a great way to cook on busy errand days. The gravy makes itself and the roast literally falls apart, you have to scoop it out with a spoon. You can even place the roast in FROZEN if you want just add a few hours extra time of cooking. It is always perfect and everyone eats it up--never much left over for lunches.

This is a snap to put together and the house smelled like Heaven when I got home from teaching on a cold, rainy day in the desert (which we don't often get here in Arizona!). I added a pound of baby carrots and thickened the delicious gravy with some corn starch at the end. The meat was wonderfully tender and tasty. Served with homemade mashed potatoes and hot french bread. My 14 year old and DH asked for seconds - I'm glad it was a big roast so we can have it again tonight! Thanks so much Shawn C for a new way to prepare pot roast that I know we will enjoy many times again!
1360.77-2267.96

g chuck roast or 1360.77-2267.96 g chuck tender roast

35.43

g envelope Lipton onion mushroom dry soup mix

297.66

g can cream of mushroom soup

396.89

g can beef broth
Place soups in crock pot and whisk together.
Add remaining ingredients to crock pot.
Cover and turn on high for 6-8 hours.
Serve with rice or potatoes.