Simple Perfect Pot Roast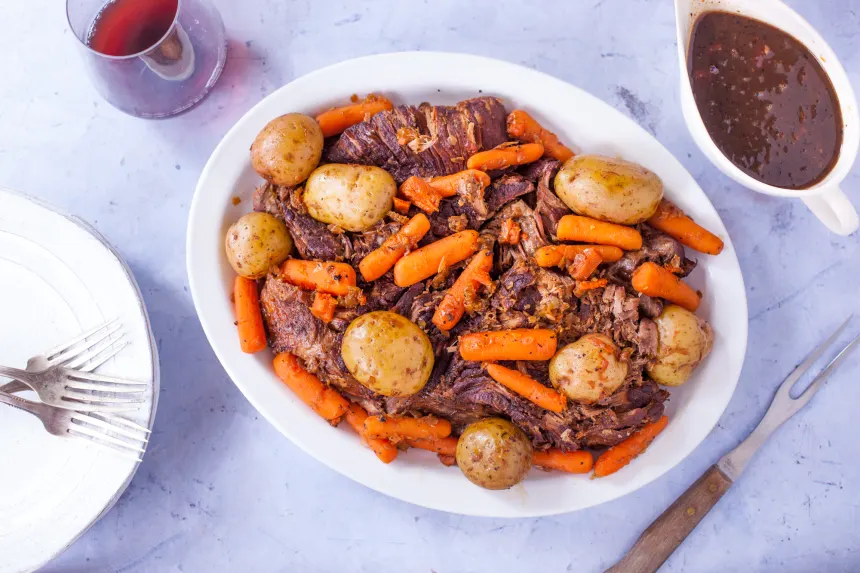 photo by DianaEatingRichly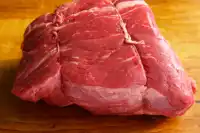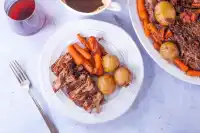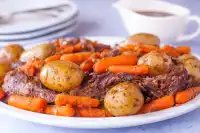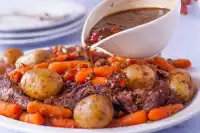 Ready In:

5hrs 20mins

Ingredients:

13
directions
Adjust oven rack to middle position and heat oven to 300°F.
Thoroughly pat roast dry with paper towels; sprinkle generously with salt and pepper.
Heat oil in large heavy-bottomed Dutch oven over medium high heat until shimmering but not smoking.
Brown roast thoroughly on all sides, reducing heat if fat begins to smoke, 8- 10 minutes.
Transfer roast to a large plate; set aside.
Reduce heat to medium; add onion, carrot, and celery to pot and cook, stirring occasionally, until beginning to brown, 6- 8 minutes.
Add garlic and sugar; cook until fragrant, about 30 seconds.
Add chicken and beef broths and thyme, scraping bottom of pan with wooden spoon to loosen browned bits.
Return roast and any accumulated juices to pot; add enough water to come halfway up sides of roast.
Bring liquid to simmer over medium heat, then cover tightly and transfer pot to oven.
Cook, turning roast every 30 minutes until fully tender and meat fork slips in and out of meat very easily (3 1/2- 4 hours).
Transfer roast to carving board, tent with foil to keep warm.
Allow liquid in pot to settle about 5 minutes, then use wide spoon to skim fat off surface; discard thyme sprig.
Boil over high heat until reduced to about 1 1/2 cups, about 8 minutes.
Add red wine and reduce again to 1 1/2 cups, about 2 minutes.
Season to taste with salt and pepper.
Cut meat into 1/2 inch slices, or pull apart in pieces; transfer meat to warmed serving platter and pour about 1/2 cup sauce over meat.
Serve, passing remaining sauce.
Note: Can add small red potatoes and sliced carrots and/or parsnips about 45 minutes before roast is finished.
Reviews
PanNan, I simply can't believe that this recipe was posted in August of 2002 and hasn't been reviewed until now! How moist, tender and flavorful can one simple pot roast be?? So easy to prepare, slowly roasting in the oven over a period of hours to attain the perfect tender roast! I did everything as directed, eliminating the wine in the gravy, as personal perferences dictated. ;) We enjoyed this roast so very much and will obviously be enjoying it many more times to come! thank you PanNan, for posting this fabulous recipe for all of us to enjoy!

 

I've used this recipe for both beef and pork roasts since I found it a couple of months ago. We love it. I follow the recipe as is for the beef roast and for the Boston butt I add Old Bay to the salt and pepper and eliminate the wine. I make it from start to finish in my cast iron Dutch oven, turning only once. I roast for an hour per pound and it seems to work whether I'm using a 2 pound or 4 pound roast. The sauce is wonderful as both an Au Jus or thickened for a gravy. This is a top of the line, A-one pot roast. Thanks for posting Pan Nan and it was my loss it took me so long to find. I'll be making this often.

 

What a wonderful aroma we had in the house this afternoon. The taste didn't disappoint at all. I did add the wine in to deglaze the pan before adding in the broth. It worked fine and tasted wonderful. I added in the carrots and potatoes 45 min. before it was done and they were great. The reduced broth is really what makes this recipe different than my usual pot roast. I will def. use this method again. Thanks for sharing your delicious recipe.

 

I have grown up with Sunday pot roast I wouldn't have believe I could make one better than Moms! But I did and she thought so too. I didn't use red wine. I did add carrots and whole red potatoes. They needed more time I will add them 30 min earlier next time. I also added a quartered onion. I pulled out the carrots and potatoes and then with a slotted spoon removed all the "yucky stuff" according to my kids. That means all the large vegetables. I then blender-ized them. I would have used an emulsion blender if I had one. The I added it back to the pan brought to a boil and simmered till reduced then added a couple spoon fulls of powered gravy to thicken it up. Not enough gravy!!! We were all licking it with our fingers, Best gravy ever!! This is now my official pot roast recipe! Thank you Derf