Super Fudgy Triple Chocolate Espresso Brownies
GaylaJ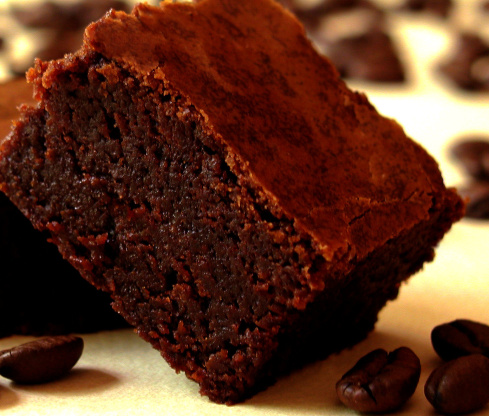 Instant Chocolate and coffee together, yum!! The espresso adds a coffee flavor that compliments the rich, deep chocolate flavor of the brownies.

Top Review by Shari2
These are so good. They are easy to make on top of it. I plan on making more for the holidays. Thanks for another great recipe Mirjam.
Adjust oven rack to lower-middle position and heat oven to 350 degrees.
Spray 8-inch square baking pan with nonstick vegetable cooking spray.
Fold two 12-inch lengths of foil lengthwise so that they measure 7 inches wide.
Fit one sheet in bottom of greased pan, pushing it into corners and up sides of pan; overhang will help in removal of baked brownies.
Fit second sheet in pan in same manner, perpendicular to first sheet.
Spray foil with nonstick cooking spray.
In medium heat-proof bowl set oven a pan of almost-simmering water, melt chocolates and butter, stirring occasionally until mixture is smooth.
Whisk in cocoa and espresso powder until incorporated.
Set aside to cool slightly.
Whisk together eggs, sugar, vanilla, and salt in medium bowl until combined.
Whisk chocolate mixture into egg mixture; then stir in flour until just combined.
Pour mixture into prepared pan, spread into corners and level surface with rubber spatula; bake until slightly puffed and toothpick inserted in center comes out with a small amount of moist batter clinging to it, 35 to 40 minutes.
Cool on wire rack to room temperature, about 2 hours, then remove brownies from pan using foil handles.
Cut into 1-inch square and serve.
Do not cut brownies until ready to serve, brownies can be wrapped in plastic and refrigerated up to 5 days.