jenne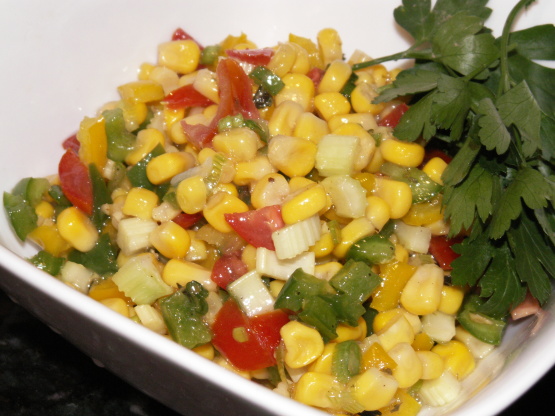 A great 'make ahead' salad to have on hand when expecting family and friends for the weekend. This is one of our favorites and most salad lovers request the recipe. Be sure to refrigerate preferably in a covered jar which I find keeps it crisp and fresh. Only the salad itself goes into the serving bowl - the marinade remains in the jar. Using one of your special glass bowls adds to the presentation.

I like the ingredients in this recipe but not a big fan of the sugar/vinegar flavor it has. I think it would taste better with a cilantro/lime flavor. Either way it is a refreshing healthy salad and worth the try.
In mixing bowl add: 2 (12 0z.) cans of drained kernel corn.
Add the prepared vegetables.
In a small bowl combine the marinade ingredients.
Combine and toss, cover and allow to marinate for at least 4 hours.
(better if marinated overnight).
Store in fridge.