Summertime Garden Veggie Pasta Salad
Marlene.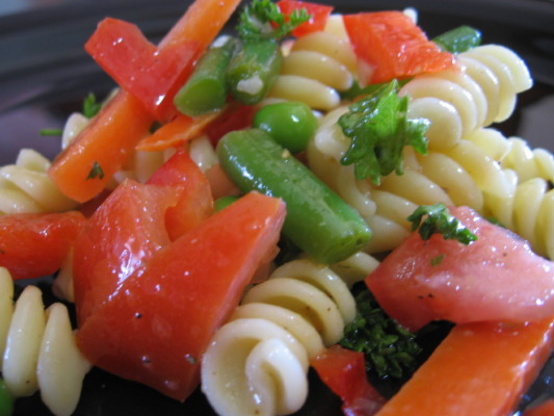 It's been so hot the past few days I've been trying to keep cooking to a minimum. I came up with this pasta salad to put some garden herbs and veggies and ones I had in the refrigerator to use.

This was delicious! I cut it in half but otherwise followed the instructions. We loved the green beans in the salad plus we really enjoyed the dressing. We will be using this salad this summer when it really gets warm. I might even add some cooked shrimp or some protein for a complete meal. Thank you for posting. Made for Spring PAC 2014.
2

cups rotini pasta, dry
water, to cook

1

dash salt

1

dash olive oil

2

medium carrots, julienned

1

medium red bell pepper, 1/2 inch dice

1

cup fresh green beans, ends trimmed and halved

2

tablespoons fresh peas (or frozen)

3

spring onions or 3 scallions, chopped

2

roma tomatoes, chopped

For dressing

4

tablespoons extra virgin olive oil

2

tablespoons red wine vinegar

1

teaspoon minced garlic

1

teaspoon mustard

1 -2

teaspoon capers (optional)

2

teaspoons fresh parsley, chopped

1

teaspoon fresh tarragon, chopped

1

teaspoon sugar
salt & fresh ground pepper, to taste
Cook pasta in boiling salted water according to directions, (usually about 10 minutes) but do not overcook. Mushy pasta will not work well for this recipe. Add a dash of olive oil to keep pasta from sticking while cooking.
In a bamboo or other type of steamer, steam the julienned carrot, fresh peas and green beans for about 5 minutes until just tender. Alternately, you could parboil them for just a few minutes to get them softened just a bit.
Drain and rinse pasta under cold water in a colander. Add to large bowl.
Mix steamed carrots, green beans and peas together into pasta. Add red bell pepper, green onions/scallions, and chopped tomatoes.
Mix ingredients for dressing together, and pour over pasta and veggies. Mix well to combine.
Place lid or plastic wrap over the bowl and let chill in refrigerator for at least an hour to let flavors meld.