Prep 25 mins
Cook 30 mins

The stuffing in this recipe is out of this world. It's flavored with bacon, onion, cayenne, garlic, etc. YUMMY! I always double the recipe because they go so fast. This was originally based on a recipe in Southern Living, and with the dash of cayenne it's truly a Southern recipe.
Directions
Preheat oven to 375.
Clean mushroom caps.
In a large skillet heat oil and 1 tbsp butter over medium heat.
Add onions and cook for 1 minute.
Stir in chopped mushroom stems and cook until soft, about 2 minutes.
Stir in the garlic, bacon and fresh parsley.
Toss to coat and cook for another minute.
Remove from heat and add breadcrumbs, a half cup at a time.
Add just enough breadcrumbs so that mixture remains moist.
Season mixture with cayenne, salt and pepper.
When mixture is cool enough to handle, stuff the caps.
Place the stuffed caps in a baking dish and drizzle with 2 tbsp of melted butter.
Bake for 12- 15 minutes, or until heated through.
Serve immediately.
Most Helpful
Good, easy enough to make. I made them ahead and baked them a bit longer than stated to be certain they were cooked through. Made a great appetizer.
I have made this and it's great;the only difference is that I didn't put any butter.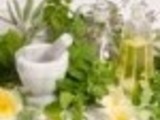 These are fabulous. It's now one of my husband's most requested appetizers whenever we entertain or take a dish to any type of party or gathering. The cayenne adds a great zip!