Bergy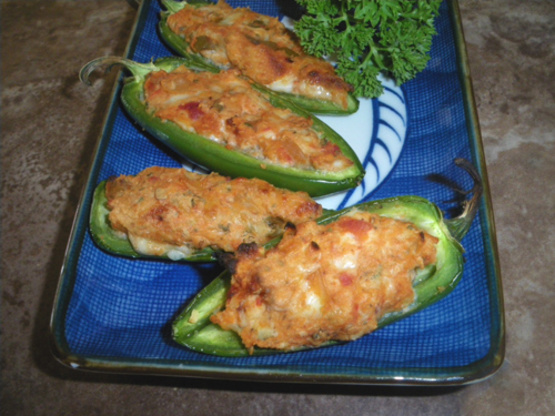 Quite a spicy little treat, feel free to play with the stuffing mixture. *NOTE* I have never made a single batch of these, we always have to double or triple the recipe!

Top Review by Bergy
For flavor and over all I would give this recipe 5 stars however to boil the Jalapenos first destroys what we love - a bit of crunch stil lleft in the peppers. It also takes some of the "Hot" out of the peppers. Also your ingredient amounts were vague. I still give you 4 stars because they were so darn good Made 4 peppers givng 2 servings of 4 halves - Loved them
Boil Jalapeno Peppers until soft for 5 minutes or so.
Remove from water, Using a sharp knive, slice the pepper lengthwise,leaving the pepper intact as a cavity, remove seeds and clean for the cream cheese filling. Rub olive oil on peppers.
Combine cream cheese, bread crumbs, jack cheese, salsa.
Fill each pepper with cream cheese mixture.
Place peppers on grill or bake (in preheated oven at 400) until cream cheese mixture is hot and peppers are cooked tender about 10 minutes.