Strawberry Style Matrimonial Cake
Pamela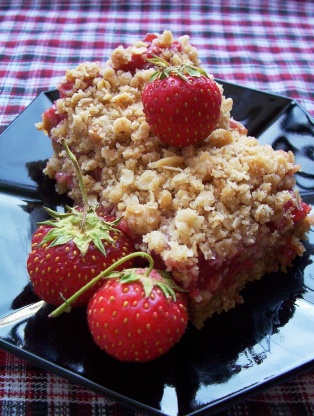 Most summers I enjoy going strawberry picking at a "U Pick". The Blue Diamond Berry Farm is one of these U-Picks and they hand out recipes you can make with strawberries. This is one of these recipes which is a nice variation from the regular matrimonial cake made with dates.
Topping: Blend dry ingredients.
Cutting in butter until crumbly.
Use 2/3 of this mixture, press into a 9" or 10" square cake pan.
Keep the other 1/3 for topping.
Filling: Mix tog.
sugar and cornstarch, blending in the strawberry puree and lemon juice.
Bring to boil and cook until thick.
Pour over the crumb base and spread the remaining crumbs on top.
Bake at 350 degF for 30-35 minutes or until golden.
Chill well before cuttiing.