KateL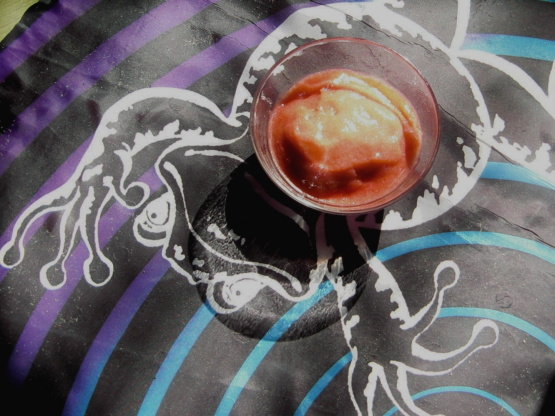 I have not made this recipe - alas, I do not own a Gelateria! - but just reading the simple combination of flavours, this sorbet sounds just SO delicious. A strawberry sorbet which combines the sweetness of strawberries with the tartness of limes. If you really are a diehard sweet tooth, use orange juice instead of lime juice, or a blend of orange and lime. This is a Sunbeam recipe, and you need a Sunbeam Gelateria - or a similar appliance - to complete the final step of the recipe. The 'cooking time' listed below is the time taken by the Gelateria to turn the mixture into sorbet. NOTE added July 2008: It's great to see that Zaar chefs have successfully made this recipe without Sunbeam's efforts to tell them that they needed a Sunbeam Gelateria to make it! Well done! When summer comes next, I shall certainly be trying it!

I made this today, and it really hit the spot. With temps well into the 90's this was a refreshing treat for sure. But I did cheat. I did not push the puree through a sieve. Strawberries just aren't the same to me unless they have that little crunch from the seed. Great recipe and very easy to make.
Heat the water and sugar in a small pan over a low heat until the sugar has dissolved. Bring to the boil and cook for 1 minute.
Remove from the heat and allow to cool at room temperature before refrigerating for a few hours or until cold.
Wash and hull the strawberries, place the strawberries in a blender or food processor and puree until smooth.
Push the pureed strawberries through a sieve to remove the seeds.
Chill.
Combine the sugar syrup, berries and lime juice and stir to combine.
Add the mixture to a Sunbeam Gelateria and follow the instructions provided by Sunbeam.
The sorbet will be ready in 30 minutes.