Strawberries With Sugar and Cream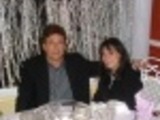 Just a simple little ending to your summertime supper.
Directions
Rinse strawberies but do not hull. Gently pat dry and place in serving bowl. Mix sour cream and sugar in small bowl. Serve strawberries with sour cream mixture for dipping.
Most Helpful
A recipe that increases my aerodynamics by reducing drag. In other words...quick, quick, quick (and good). Made for Everyday Is A Holiday.

HI JACKIE Love this treat. Easy, simple. Have been doing this for decades. My kids favorite way to eat strawberries. A nice decadent dessert without any regrets. I have used low-fat sour cream with great effect. Also used instead of Whipped cream for shortcakes. Good with mixed fruit salads as well. Never thought to post. Thanks Judy in WA
Living in England, where strawberries and cream is nearly the national summer dish, I have had the combo many times. However, I have never before thought of using sour cream and I was unsure of how it would turn out but it was truly yummy. I used reduced fat sour cream to make the guilt factor pretty low. I really liked the slightly tangy taste from the cream and in many ways. Made for PAC Fall 2009.