Stir-Fried Rice Noodles With Curried Shrimp - America's Test Kit
Prep 10 mins
Cook 30 mins

Directions
Cover noodles with boiling water in bowl. Soak until softened but not completely tender, about 15 - 20 minutes. Drain noodles.
Whisk water, 2 T. oil, fish sauce, lime juice and sugar until sugar dissolves.
Heat remaining oil in large nonstick skillet over med heat until shimmering. Cook onion and bell pepper until softened, about 3 minute
Stir in shrimp, garlic and curry powder. Cook until fragrant and shrimp are nearly cooked thru, about 1 minute
Add scallions, softened noodles and fish sauce mixture. Cook, tossing constantly, until noodles are completely tender and shrimp cooke thru, about 2 minutes.
Serve with additional fresh lime wedges, if desired.
Most Helpful
We thoroughly enjoyed this, as it seemed to be a recreation of one of my favorite dishes to order from Chinese take-out - Singapore Mei Fun! I made this almost exactly as posted, but I had some green and purple peppers from the farm, so used that instead of red (which would have been more colorful). I also used 16 oz. of shrimp, because we really love it. This was surprisingly easy to put together and packed a lot of flavor. Made for Taste of Thai Menu Challenge of ZWT9 by a fellow Tasty Tester.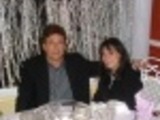 We enjoyed this curry for dinner last night. This makes a great weeknight meal since it comes together so quickly. It is also colorful and looks nice on the plate. The curry powder I used was a little on the hotter side, which I usually like, however this dish lends itself to a milder curry powder, I think. Made for ZWT9

This recipe is by far one of my favorites. My husband and I tried it and we added some carrots, broccoli, basil and crushed pepper flakes. The result was superb!!!!