Stir Fried Pork With Bok Choy and Noodles
JustJanS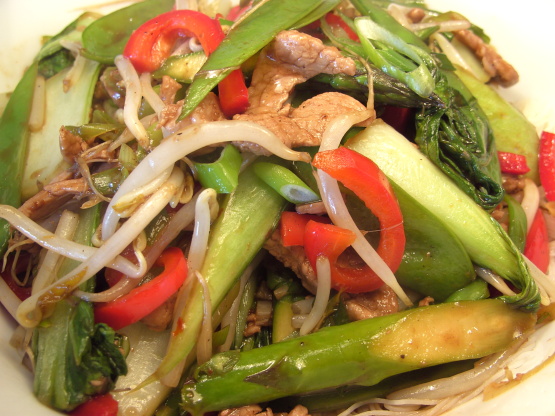 Here is another quick and easy stir-fry recipe that tastes great. I usually make this with bok choy you will see from the photo that I used Gai Lan as my local Asian grocery store was out of bok choy, so I subbed it with the gai lan. It was still very good and worked just as well it is just we really love bok choy in my family, again as with most stir fries vegetable ingredients can be played around with, either to suit personal tastes or to use up vegetables in the fridge.

This was another great recipe thanks Natalie. I made a half recipe for the two of us and that worked just fine. I may have used a bit more bok choy, but we love it and I used Chinese black vinegar and Chinese cooking wine rather than the things you suggested. I chucked in a few spears of asparagus as I had it on hand and we ate this over reconstituted rice vermicilli noodles as I also had them on hand. I especially loved that this had more than enough of the super flavourful sauce
Heat peanut oil in a wok, add pork in batches, brown and cook as desired, remove set to one side.
Heat sesame oil in wok, add garlic, pepper and chilies stir-fry about 1 minute.
Return pork to wok, add all the sauces, sherry, sugar, star anise, vinegar and 5 spice powder, stir to combine.
Add remaining vegetables and stir-fry until veg are just tender, add noodles and stir-fry to heat through.