Steamed Lime-And-Pepper Chicken With Glazed Asparagus
PaulaG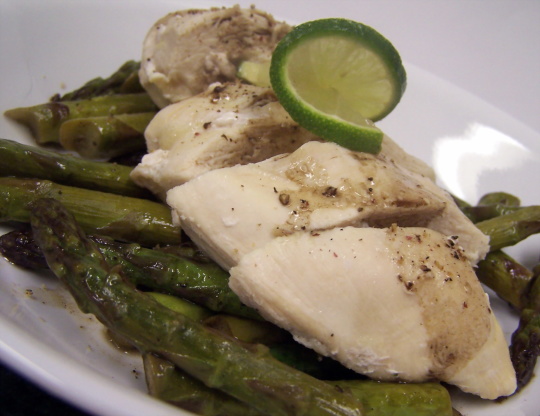 A quick, heathy and simple chicken recipe from Kangaroo Island, Australia. WINE Marry these tart and sweet flavors with the crisp, fruity 1998 Coriole Sémillon-Sauvignon Blanc from Australia or the 1998 Cloudy Bay Marlborough Sauvignon Blanc from New Zealand.

The asparagus was good (although I used just over a tablespoon of butter and substitued home made chicken broth for water) but the chicken not so much. I love lime but this just didn't do it for me or my husband or kids.
Line a large steamer basket with the lime slices. Add the chicken breasts in a single layer and season with salt and pepper. Steam the chicken until white throughout, about 15 minutes.
Meanwhile, in a large skillet, melt the butter. Add the balsamic vinegar and sugar and stir until the sugar is dissolved. Add the asparagus and water and cook over moderately high heat, stirring, until crisp-tender, about 5 minutes. Season with salt and pepper.
Transfer the asparagus to plates. Spoon the sauce over the top. Thickly slice the chicken breasts crosswise, arrange on the asparagus and serve.