Steamed Halibut With Chili Lime Dressing
Rita1652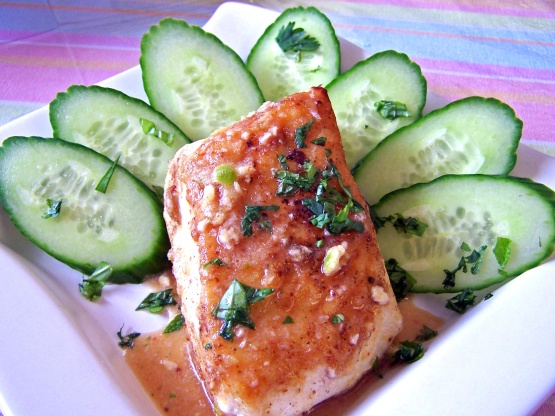 You can substitute other white fleshed fish for the halibut and if you don't have a steamer, you can wrap the fish in a loose foil packet and cook it in the oven for the same 9 to 11 minutes -- just be careful when you open the foil because the steam will rush out. And, depending on your palate, you can increase or decrease the garlic and the heat.

My new favorite steamed fish recipe. i love the texture of steamed fish but the sauces are always to sweet or too bland this one is perfect. i try to stick to the recipe at least the first time i make it but of course ran out of chili sauce, i did have chili garlic sauce so i used that in place of chili sauce and garlic. i'm also in the process of moving and already packed my bigger steamer so i wrapped the fish in parchment. thanks for the recipe.
For the Dressing.
Combine the ingredients in a blender and puree until smooth.
Taste and adjust seasoning.
For the Fish.
Steam the filets for 9 to 11 minutes.
Fan out tomato and cucumber slices on serving platter or on four individual plates.
Place steamed fish on top of tomato and cucumber.
Drizzle dressing over fish.
Rough chop herbs and scatter over the dressed fish.
Garnish, if you like, with fried shallots and pickled red chilis.
Note: To fry shallots, thinly slice them and stir fry in hot oil in a wok till they are golden brown--drain on a paper-towel covered rack and serve as a crispy garnish.