Spring Corn Soup With Asparagus
PaulaG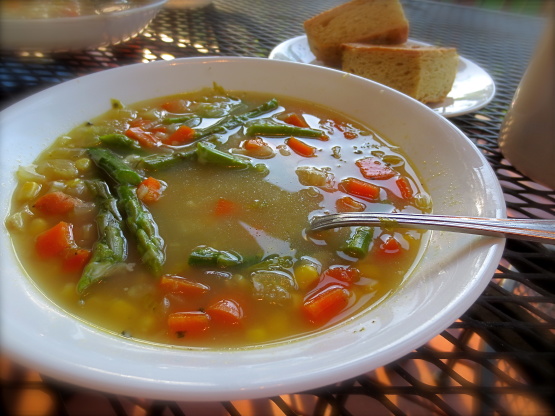 This recipe was found in the Chattanooga Times. It makes a fantastic quick to make soup which is packed with vegetables. The addition of Parmesan Cheese is my idea.
Heat the olive oil in a stockpot over medium high heat. Add in shallots, garlic, onion, carrots and celery. Cover and allow to cook until crist tender, 6 to 7 minutes.
Add in the chicken stock and bring to a simmer. Add in the asparagus, thyme and corn. Cook until the asparagus is tender, 4 to 5 minutes. Season with salt and freshly ground black pepper to taste.
Ladle into bowls and garnish with freshly grated parmesan cheese as desired.