Spinach-Stuffed Mushrooms
KateL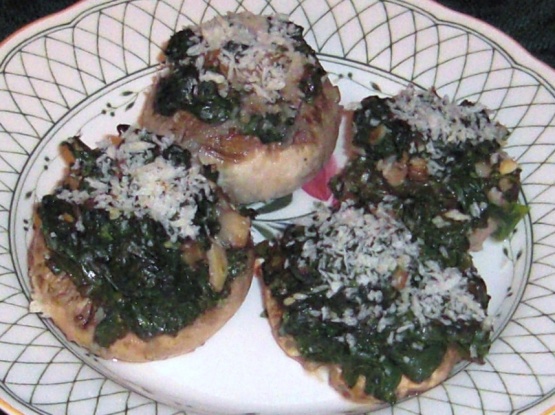 I made these for my DH. He is my Popeye, and I his Olive Oyl. Tasty and healthy, and no fish in sight.

Top Review by KateL
These tasted good, but I had difficulty squeezing out enough water from the spinach; as a result there was liquid at the bottom of my baking dish, and the mushrooms were tricky to eat "cleanly" I think some parmesan cheese mixed in and sprinkled on top would ramp up the comfort food index. I used Panko bread crumbs; I should have used Italian bread crumbs instead. Thanks for posting this healthy version, Jess. Made for Went to the Market tag.
Preheat the oven to 400°F Lightly coat an 8 X 8 X 2-inch baking pan with the cooking spray and set aside.
Wash the spinach, and place in a medium-size heavy saucepan with just the water that clings to the leaves.
Cook, covered, over moderate heat for 2 to 3 minutes or until wilted. Drain and cool the spinach.
Squeeze out the liquid with your hands, finely chop, and set aside.
Remove the mushroom stems, and chop them fine. Set aside mushroom caps.
In a heavy 7-inch skillet, melt the butter and olive oil over moderate heat. Add the garlic, and cook for 30 seconds.
Stir in the chopped mushroom stems, and cook for 5 minutes or until golden.
Mix in the spinach and the oregano, and cook, stirring, 1 minute longer.
Stir in the lemon juice, and remove from the heat.
Fill the mushroom caps with the spinach mixture, sprinkle with the breadcrumbs, and transfer to the baking pan.
Bake uncovered for 10 to 15 minutes or until the breadcrumbs are lightly browned. Serve immediately.