Spinach Salad With Festive Yumminess
momaphet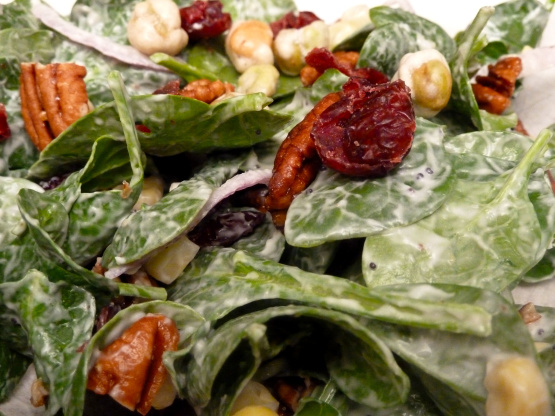 Fruity Nutty Good! This a to present in a trifle bowl to those making a main feast. A side is always easy to bring. Just toss the dressing in just before serving. Tender baby spinach, with sweet corn, peas and chewy cranberries all tossed with a light creamy dressing with just a touch of sweetness and spice topping with crunch from sweetened pecans and spicy wasabi peas. Made for Craze-E Contest 2010
This was amazingly fabulous! I really wasn't expecting much from this recipe, I thought the ingredients a bit odd, but we're adventurous, so I gave it a go. This salad is great contrast in flavors, sweet, tangy, spicy, yum! The bite of the wasabi and onion against the pecans and cranberries and slightly sweet dressing was great and I loved the textures. Changes - decreased to two servings ( except the garlic, I used 1 whole clove) - big mistake I wanted more dressing to have it again tonight. I used regular cream cheese, no frozen peas - I hate peas and if I'd left them in I'd be grossed out and give one star - didn't want to do that. I had carmelized pecans on hand so I didn't carmelize the wasabi peas for the topping - I don't think it mattered. The dressing was very thick so I added a bit more oil and then some half and half until it was at a point where I could toss it with the greens . I used the red onion, but the one I had was so hot, even though I cut it in slivers, I ended up picking them out - I was actually getting onion tears while eating the salad. After removal there was still onion flavor, I'll use scallions next time. Thank you Rita for another great recipe - this one's already destined for the Best of 2011!
In a large Trifle bowl layer salad ingredients.
In a blender place dressing ingredients and blend till smooth. taste and adjust the seasoning with salt and pepper.
In a hot pan add garnish ingredients to melt butter and coat nuts and peas just about 1 minutes.
Just before enjoying toss dressing and top with glazed nuts and peas.