Spinach-Quinoa Salad With Cherries and Almonds
jenne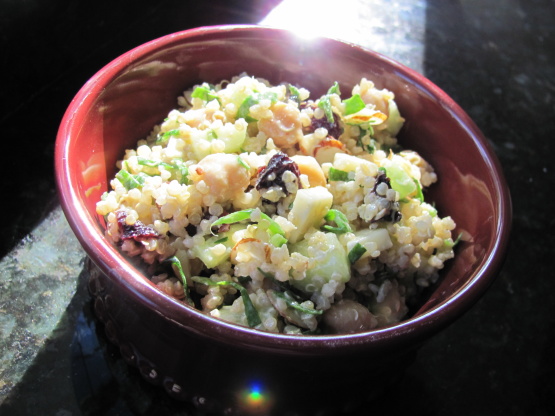 Haven't tried this yet, but it looks delicious. Can also use either couscous or bulgur, if you like. Cooking time includes chilling the completed salad in the refrigerator for 30 minutes to allow the flavors to develop. From VT July/Aug 2006

Loved this salad! It is refreshing and surprisingly hearty and filling. I did halve the recipe with good results and used dried cherries- can't wait to try it with fresh cherries. The dressing was just enough and merely coats the other components of the salad so nothing is swimming in dressing. The only change I made was to toast the quinoa after rinsing. Thank you Annisette for sharing the recipe.
1⁄2 cup sliced almonds

3

cups water, salted (to cook quinoa)
1 1⁄2 cups quinoa, rinsed and drained

2

cups spinach leaves

2

cups fresh cherries, pitted and halved or 1 cup dried cherries, chopped

1

cucumber, peeled, seeded, and chopped into 1/2 inch dice (about 1 1/2 cups)

1

(15 ounce) can chickpeas, rinsed and drained

1

small red onion, finely chopped (about 1/2 cup)
1⁄4 cup plain low-fat yogurt

3

tablespoons olive oil

2

tablespoons fresh lemon juice

2

garlic cloves, minced (about 2 tsp)
Preheat oven to 350°F.
Spread almonds on baking sheet, and toast 7-10 minutes, shaking pan occasionally, until golden brown. Cool.
Bring 3 cups salted water to boil in pot over med-high heat. Stir in quinoa. Reduce heat to medium low and simmer, covered, 15 minutes or until all liquid is absorbed.
Remove pot from heat and allow to cool, covered.
Lay 5 or 6 spinach leaves on top of one another on a cutting board. Roll tightly into a cylinder. Slice into slivers. Repeat with remaining spinach.
In large serving bowl, toss together quinoa, almonds, spinach, cherries, cucumber, chickpeas, and red onion.
In small bowl, whisk together yogurt, olive oil, lemon juice, and garlic. Pour yogurt mixture over salad, and toss to coat.
Season with salt and pepper, to taste.
Chill the salad for 30 minutes to allow the flavors to develop.
Serve.