Spinach Pasta Salad - Taste of Home
PanNan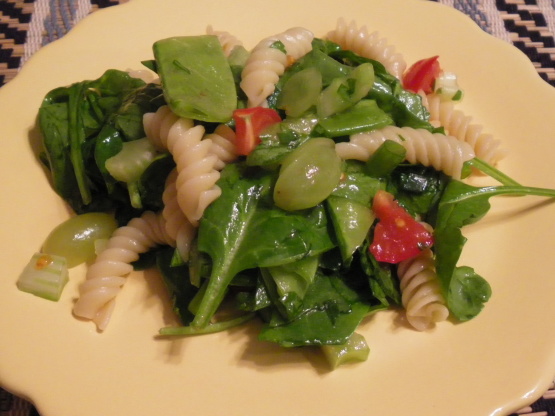 This was contributed by Ruby Pyles in the 1999 Taste of Home Annual Recipes. I am posting so I don't have to keep looking thru 12 books to find it! I usually prepare the dressing first so it can "develop" while chopping the rest of the salad. Also, this salad does not hold well so serve it soon after mixing with dressing.

Top Review by PanNan
This is a lovely salad. I enjoyed the variety of veggies and textures. I made it a side and left out the chicken this time, but think it would have made an excellent meal with the chicken. When I was mixing all that sugar in the dressing, I was afraid it would be too sweet, but in the end it all came together very nicely. When making it again, I will probably leave out the snow peas and add more tomato (just a personal preference). Thanks for sharing, Tamaretta!
In a large bowl, combine the first eight ingredients.
In a small bowl, whisk together dressing ingredients.
Pour dressing over salad and serve immediately.