Spinach and Ricotta Cheese Gnocchi
MsPia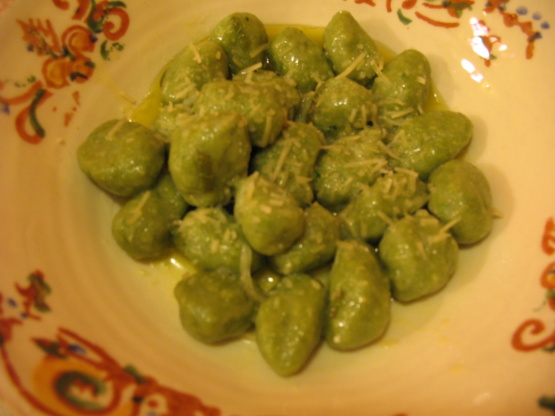 Spinach and ricotta gnocchi are a first course reserved for my very favorite guests…and they are a traditional Tuscan favorite! These have a vibrant forest green color and are light and fluffy. As with most dough preparations for gnocchi, it is the amount of flour used that will determine if their texture is light or leaden. Be sure to really squeeze as much water as possible out of the spinach or you will end up using too much flour. Patience is a virtue when making gnocchi.

Loved these gnocchi, though they did take me longer to prepare than 15 minutes and I had halved the recipe! I'm generally slower in my preparation than most Zaar recipes indicate! Since I love spinach, ricotta and sage, I knew I'd love these as soon as I tagged the recipe for Newest Zaar Tag. Since I don't make gnocchi often - it's something I've very much got to be in the mood for making - I was glad of the wonderfully clear instructions, especially the advice in step 4. I refrigerated the dough for the several hours suggested - 7 hours actually - and these proved to be the lightest and most delicious gnocchi I've ever made, so that this is very much a recipe I'll be making again - but never on a week night! LOVED the sage sauce! Thank you so much for sharing this recipe, MsPia!
Drain the ricotta cheese in a cheesecloth-lined strainer set over a bowl until it is very dry. Transfer the cheese to a large bowl and set it aside.
Cook the spinach in batches in a covered large soup pot with no additional water until the spinach has wilted. Drain it in a colander, and when cool enough to handle, squeeze the spinach as dry as possible with your hands to remove excess water. You should have about 2 cups of squeezed spinach.
Chop the spinach coarsely, then purée it in a blender or food processor until it is very smooth. Transfer the spinach to the bowl with the cheese and stir in 1/3 cup of the grated cheese, eggs, mint, salt, nutmeg and pepper, and mix well. Begin adding the flour a little at a time until a soft dough is obtained and is not sticking to your hands.
It is easier to form the gnocchi if the dough is refrigerated for several hours or overnight.
Lightly flour a work surface. Using two soupspoons, shape heaping tablespoons of the dough into an oval or egg shape then gently slide the dough off the spoon onto the floured surface.
Bring a large pot of salted water to the boil. With a spoon, scoop up about 8 to 10 gnocchi at a time and add them to the water. Boil them until they float.
Meanwhile, melt the butter in a large sauté pan and stir in the sage leaves. Cover the pan and keep the sauce warm.
Use a slotted spoon to remove and transfer the gnocchi to the sauce tossing them gently until well coated with the sauce.
Divide between 8 individual plates and sprinkle with the remaining 1/3 cup of cheese. Serve hot.