Spicy Sweet Potato Casserole
Rita1652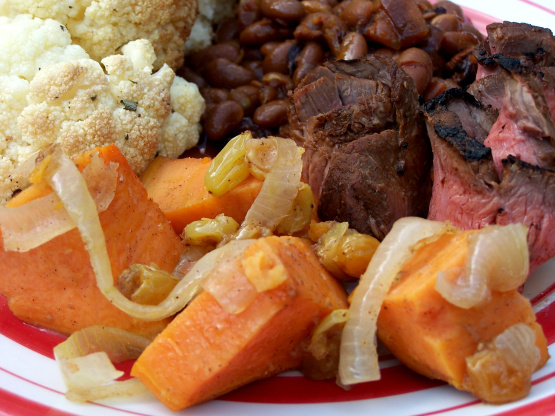 Tired of the same old sweet potatoes? Ready to skip another sugary, marshmallow side at your holiday table? So am I. :-) Found this while scanning magazines at a neighbors and quickly scribbled it down. The combination of dweet and savory additions look to enhance, not mask, the wonderful flavors of the under appreciated sweet potato. This will be gracing our holiday table next year and will likely make an appearance before then. Soon to be at a table at your house? Hope so.

I was lucky enough to find sweet onions (Maui's) when I last shopped. I enjoyed this as a welcome change from the usual holiday sweet potato dishes. Splenda Brown Sugar was used in place of the regular brown and I used double the cinnamon and ginger. It all came together with a lovely layering of flavor intensity, the sweet, the savory and and a tiny nip of heat.
In a large skillet, heat the oil over medium-high heat. Add the sliced onions and cook for 3 minutes, stirring occsionally. Add in the sweet potatoes and cook an additional 10 minutes.
Add two cups of water to the skillet. Add in the raisins, sugar, salt ginger cinnamon and cayenne. Reduce heat, cover and cook for 12 minutes until the potatoes are tender.
Serve hot or at room temperature.
Note: You can prepare these up to two days in advance. To reheat, place in a casserole dish and let stand 30 minutes at room temperature. Bake at 325 degrees for 30 minutes.