Spicy Sausage and Cauliflower Soup
Julia T.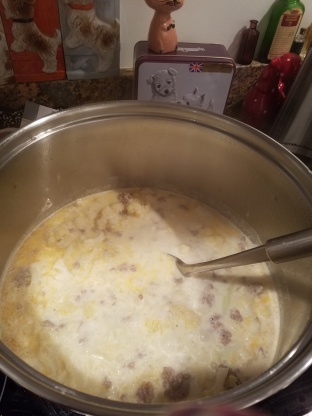 This is a recipe I saw in Paula Deen's magazine and wanted to post to try here sometime soon.
In large Dutch oven, cook sausage over medium-high heat for 5 minutes, or until sausage is browned and crumbles.
Remove sausage, and reserve drippings in pan (drippings should equal about 1/4 cup).
Reduce heat to medium; add vegetable oil.
Add flour and cook, whisking to remove any lumps, until light brown.
Stir in chicken broth, whisking to remove any lumps.
Add cauliflower, and simmer until tender and begins to fall apart.
Stir in half-and-half.
To serve, top each bowl with desired amounts of crumbled sausage.
Garnish with cheddar cheese and green onions, if desired.
Serve immediately.
Note: For a smoother soup, puree in a food processor before adding half-and-half.