GaylaJ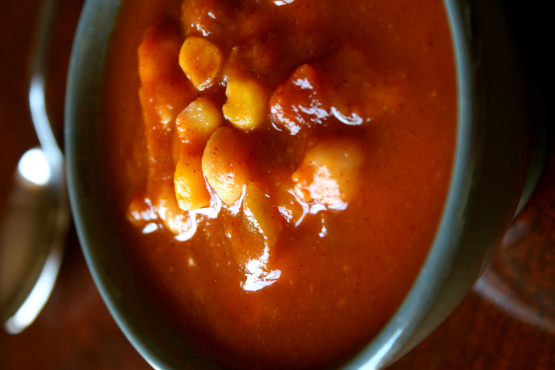 Adopted recipe! Pumpkin gives this soup great creamy texture.

~I use recipes as "suggestions"~
I added ground beef, onions, cilantro, cayenne pepper, lime juice, a splash of Worcestershire sauce, diced black olives and used small black beans instead of garbanzos. Garnished with diced avocado and grated cheese.
It was a hardy soup that was delicious!
Heat oil in a 3-qt saucepan.
Add garlic, chili powder and cumin.
Stir over medium heat for 1 minute.
Add broth, increase heat then stir in chick-peas, pumpkin, corn and salsa.
Bring to a boil the reduce heat and simmer for 10 minutes to develop flavors.
Ladle into soup bowls and garnish with cheese and sour cream, if desired.