Spicy Italian Stuffed Spaghetti Squash #Ragu
Micah W.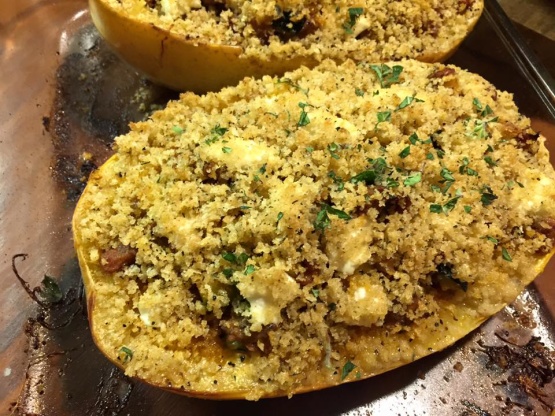 Ragú® Recipe Contest Entry. It's a completely satisfying low-carb taste of Italy in it's own delicious bowl. Filled to the top with savory Italian sausage, buttery zucchini and creamy goat cheese, this squash based meal is so satisfying no one will will miss the pasta!
Preheat Oven to 400.
Split clean, dry Spaghetti squash long ways and clean, removing all seeds. I like to use a large spoon for this.
Oil liberally with olive oil and salt and pepper to taste.
Place cut side down and roast 45-60 minutes until just tender enough to fluff with a fork. Time will vary depending on size of squash.
While squash is roasting, work on dicing vegetables and brown Italian sausage.
Once sausage is browned add in half of the butter and the entire onion. Cook until tender.
Add in garlic, zucchini, and Ragu Spicy Italian Sauce and simmer until all veggies are tender.
Season with chopped oregano, salt and pepper to taste.
Once roasted squash is tender, drag a fork from edge to edge just enough to loosen the flesh from the skin. Divide the Ragu ,mixture between the two halves. Sprinkle crumbled goat cheese evenly between the two pieces.
In a small bowl, melt remaining butter and add in bread crumbs. Sprinkle evenly on top of the two pieces or squash, careful to cover Ragu mixture.
Place back into oven and bake for 15 minutes or until the breadcrumbs are nicely golden brown.
Allow to cool 5 minutes. Serve and enjoy!