Spicy Crock Pot Pinto Bean Chili
Parsley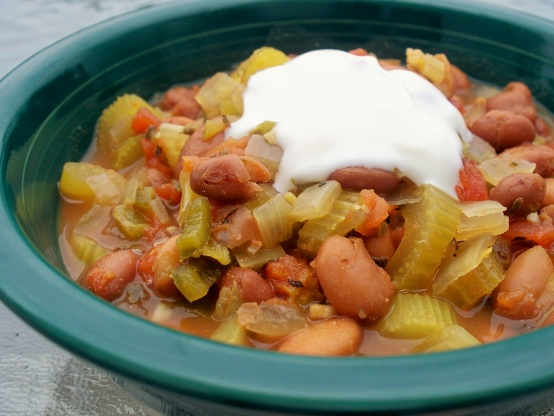 This recipe uses convenient frozen pinto beans, not dried. This crock pot chili can be thrown together in just a few minutes usually with items you already have on hand. The spice level can be adjusted by varying the amount of jalapeno's or leaving them out completely.

I made this as a last minute resort on the stovetop and it was fantastic, considering the ease and simplicity to prepare it. I had saved this recipe during ZWT, but didn't get a chance to make so when I went to get what I needed to make this out, I found myself with only 1 can of pinto beans. I never could find the frozen either. Anyways, I used that 1 can plus 1 can of black beans, drained and rinsed both. I expected it to be good, but it surpassed my expectations. This proves you can make an enjoyable, healthful chili like soup without adding any meat. My husband even ate his without his "beloved" shredded cheese on top, which is saying something--quite a bit actually. LOL Thanks a bunch!!
Place all items into crock pot. More broth can be added if desired.
Cook on low for 6-8 hours or high for 3-4 hours.