Spicy Barbecued Pork Tenderloins With Garlic Sauce
teresas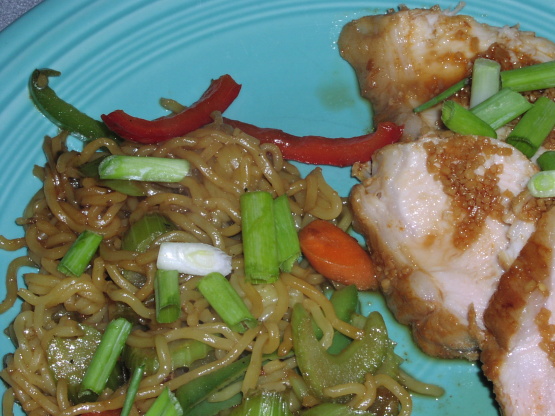 If you love garlic then this one is for you! Plan ahead the tenderloins needs to marinate for 6 hours before cooking. You can make this recipe using one large pork roast also, but cooking times will have to be adjusted and you will need to double the hoisin/soy sauce marinade. You might want to double the garlic sauce, this is better than eating at any Asian restaurant! :)

Yummy!! This is so good. You do need to plan ahead for the marinating time. I made as posted using the hot chili sauce and the chili oil. We like things hot and spicy. I used soba noodles and threw in some sliced veggies I had to use up. I served the noodles on the side. This is a make again dish. Thanks Kittencal for another wonderful recipe.
In a small bowl, mix together hoisin sauce, hot chili sauce (or ketchup if using) soy sauce, fresh garlic and sugar.
Brush the tenderloins with the mixture.
Place in a pyrex baking dish; cover and refrigerate for a minimum of 6 hours.
Meanwhile make the garlic sauce: In a bowl mix all ingredients until blended; set aside (or chill, you will have to rewarm later to serve).
When ready to cook remove the tenderloins from the fridge and let sit at room temperature for 1 hour (or a little more) before cooking.
Set oven to 350 degrees.
Roast uncovered for about 35 minutes or until temperature reaches 160°F (I pull my tenderloins out early as they will continue to cook when removed from the oven and then will not be as dry).
Transfer to a cutting board and cover loosely with foil, let stand for 20 minutes.
Slice against the grain into thin slices.
On a large serving plate arrange the pork slices on top of cooked noodles.
Spoon the garlic sauce over the pork.