Spiced Tuna With Pineapple Glaze
PaulaG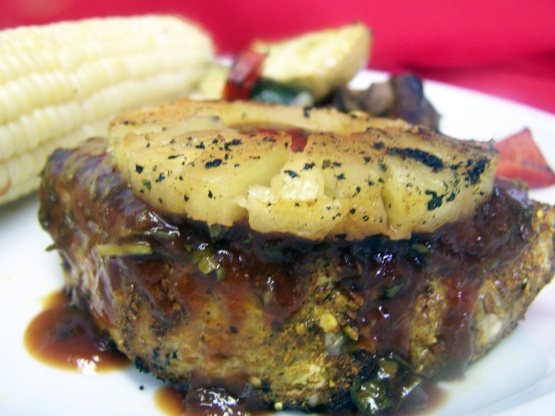 This is a recipe that I found at another web site and adapted to suit our taste. This has a little bit of a kick. Serve this with jasmine rice to soak up the wonderful glaze!

Top Review by ellie_
Very good and different fish recipe! This is the first time I ever had fresh tuna and was pleasantly surprised at how much different it tastes like the usual canned tunafish we are all too familiar with. However I wasn't able to get fresh tuna so used frozen tuna steaks (thawed) which I think were a bit thinner than the recipe indicated and also used canned pineapple (using the juice in the can). Besides that I followed the directions pretty much to the letter, allowing for the thinner fish and skipping the star anise (which I wasn't able to find). Next time I may cut down on the spices just a tad, but otherwise very enjoyable fish which we served wiht Asian Noodle Salad recipe#128671 and Custard With Kiwi recipe#128412 for dessert. for dessert. Perfect for a hot summer evening meal -- a filling delicious meal without turning the oven on. Thanks for sharing!
Combine the spice rub ingredients in a heavy skillet, mix well, and heat over medium heat, stirring frequently, until spices begin to smoke and become fragrant.
Remove from heat, cool, place in a coffee grinder and grind until fine.
To make the glaze, combine the pineapple juice, vinegar, ginger, soy sauce, and brown sugar in a small saucepan.
Bring to a boil, reduce heat to low and simmer until mixture is reduced by half, about 30 minutes.
Add the catsup and cook an additional 5 minutes.
Remove from heat, add lime juice, cilantro and white pepper; mix well and set aside.
Rub the tuna steaks on all sides with spice mixture.
Grill the tuna over a medium fire for 4 to 5 minutes per side, or until center is still slightly pink for medium-rare.
Spread pineapple slices lightly with glaze and grill for 2 to 3 minutes per side.
Serve grilled steaks on top of jasmine rice with glaze spooned over, top with a slice of pineapple.