Rita1652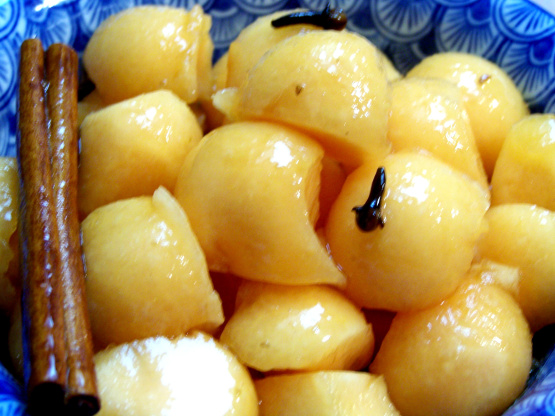 From an old southern cookbook comes this recipe that's perfect to serve on hot summer days. I love to serve this when we grill out. I've also served this at breakfast alongside pancakes and waffles.

The cantaloupe was sweet and had a slight tang. I would have like more of the spices to come through. I`m not sure if my cinnamon and cloves were wippy or the syrup should have been simmered longer. But I did enjoy a lot! Very refreshing. This would be great to use on those melons that just isn`t sweet or ripe enough!
Drain the melon balls, reserving the juice.
Combine the juice, brown sugar, vinegar, cloves, and cinnamon in a saucepan.
Simmer for 5 minutes and discard the cloves and cinnamon stick.
Pour the sauce over the melon balls and chill until ready to serve.