Star anise, cinnamon, and passion fruit nectar add a special twist to this holiday tea.
Directions
In a medium saucepan bring water to boiling.
Add tea bags, anise, and cinnamon stick.
Reduce heat. simmer, uncovered, for 3 to 5 minutes. Discard tea bags and cinnamon stick. Stir in nectar, honey, and lemon juice. Heat through.
2. Pour tea mixture into four heat-proof cups, floating a star anise on top of each. Makes 4 servings.
Reviews
Most Helpful
This was a wonderful beverage, served both hot and iced. I made a double batch early and refrigerated it. I heated some and served it warm, which was delightful. Then I also poured some in glasses with ice, which was just as delicious. Tastes like a winter holiday! Thanks for sharing.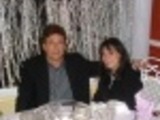 Great for anytime of the year, not just at the holidays! I've been drinking tea almost every night and this was an easy way to add sizzle to normal tea-more citrusy and fruity than spicy though. In fact, this reminded me a little of Theraflu, the lemon tea for sore throats, which I love!