Zaney1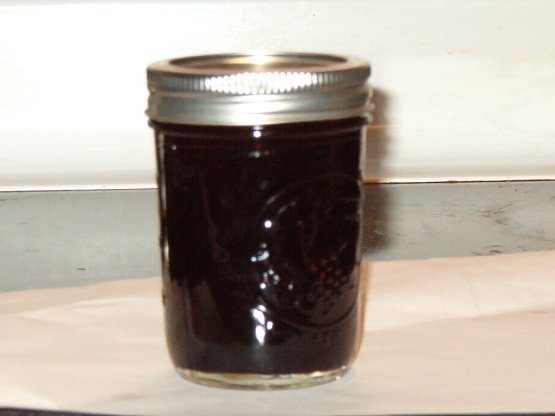 No need to wait for blueberry season to make this spicy, flavorful jam that is delicious on hot biscuits. English muffins or toast. Frozen berries enable you to make the jam anytime.

Top Review by Zaney1
I switched this recipe a little bit b/c I didn't have enough liquid pectin so I used powdered instead. I used 4 cups crushed blueberries, and 4 cups of sugar. I also didn't have cloves so I used nutmeg. It's not quite the same spicy but it was still good. The technique was a little different as well b/c of the powder pectin. I added the pectin in with the fruit and cooked it to a rollingboil and then added the sugar and boiled it for 1 minute. I used two piece lids and hot water bathed the jars for 10 minutes instead of using wax as this is the safer way to preserve. It is a very good and different jam. The spices add so much.
Remove any stems from berries. Crush fruit 1 layer at a time. Measure 2 1/4 cups, packed solidly, if necessary, add water to make up amount, pour into very large saucepan or dutch oven.
Add lemon juice, sugar and spices, mixing well. Bring to a full rolling boil, stirring 1 minute Remove from heat and immediately stir in pectin.
Ladle into hot jelly glasses or jars. Water bath can 10 minutes at 1000 feet. Remove from canner, cool and test lids.