PaulaG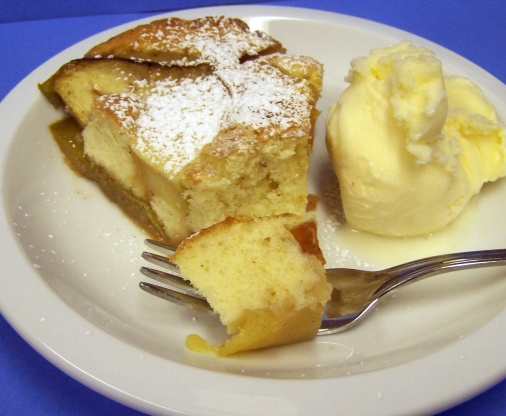 This lucious dessert invokes warm memories of growing up in a home where there might not have been much money, but love was in great abundance. Suggested accompaniments include, ice cream, whipped cream, hot or cold custard, sweetnened ricotta cheese and spiced mascarpone. Yummm...
Preheat oven to 350*F (180*C).
Peel core, and slice the apples into eights (slicing through the middle ways, so that the slices stay in rounds).
Melt the butter in a large frying pan, add the apples slices and cook, stirring occasionally, over high heat for 7 minutes, or until browned.
Add the raisins, lemon juice, cloves, cinnamon, nutmeg, half the sugar and 1/2 cup water.
Bring to the boil, then lower the heat and simmer for 3 minutes, or until the apples are tender.
Remove the cinnamon stick and cloves and spoon the apple mixture into a deep 2 litre round ovenproof casserole.
To make the sponge topping, beat the eggs, remaining sugar and lemon zest in a small bowl with electric beaters for 7 to 8 minutes, or until the mixture is light and creamy.
Sift together the flours and fold into the creamy mixture with a metal spoon.
Spoon the sponge topping over the apples and bake for 30 minutes, or until the sponge is well risen and golden.
Dust with icing sugar before serving.
Best eaten immediately.