Southwest Rice and Corn Pilaf
vrvrvr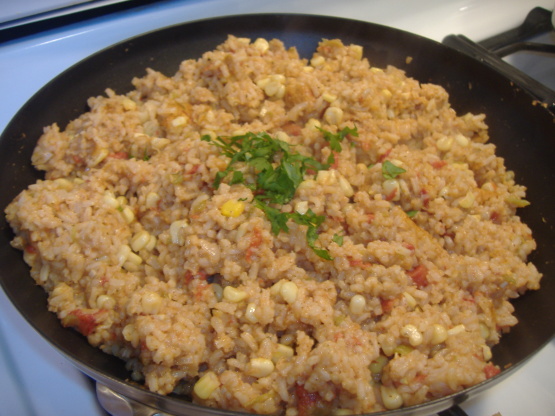 I was in a lazy mood tonight and was trying to decide what we were going to have with our grilled pork tenderloin. I really didn't want to fix potatoes/rice and a vegetable so I got out my cook books and started looking. I found this rice and corn pilaf and decided that it fit the bill for what I was looking for. This recipe comes from the "AMA Family Cookbook" and BTW everyone enjoyed it!

Home Sweet Home!!!! This was a great pilaf! I Omitted the Tabasco as the chili provided the right heat. I did however have it available on the table for those like myself that like it spicy! I served it with my Recipe #420083. This will be part of my regular rotation. Thank you for posting!
Heat oil in a large saucepan with a lid. Add the onion and cook, stirring frequently, until it begins to soften, about 4 minutes. Add the garlic, chili powder, cumin, and oregano and cook, stirring, for 1 minute. Add the rice and stir until the grains are covered with oil.
Add the broth, canned tomates, and green chiles. Bring to a boil and add the corn. Reduce the heat to low and cook, covered, until the rice is tender aboutn 25 minutes. (The rice will take a little longer to cook than usual because of the acid in the tomatoes.).
Season with hot pepper sauce. Transfer to plates or a serving bowl and sprinkle with the cilantro and scallions.