Pam-I-Am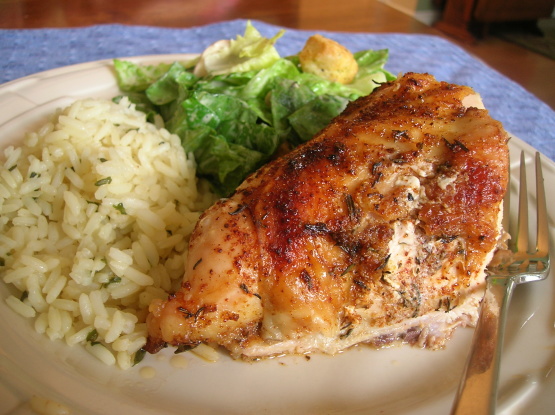 I discovered this recipe one Sunday afternoon in the WW magazine when I was looking to find a different way to prepare chicken. This recipe is very easy and very tasty. I served it with rice and green beans. The chicken can be cooked immediately after using the rub, but for a more intense flavor, marinate for a couple of hours in the fridge or overnight.This chicken has a sweet and spicy flavor and can be served with a squeeze of fresh lime.

I LOOOVED this chicken. Seriously 10 out of 10! UPDATE: Make this all the time - leave the chicken in the bag to marinade overnight.... OLDER Review: Based on the two negative reviews - we only used 2 TBL loosly packed brown sugar. We put all the rest of the spices (plus the sugar) into a big zip lock bag. Then cut 2 lbs boneless / skinless chicken breasts into halfs. We then put olive oil over the chicken and added fresh ground pepper (as the recipe didn't call for any). Then put the oiled chicken into the bag shook to coat and then into the fridge for about 3 hours. The chicken went onto the grill at about 475 for about 12 minutes. We added the fresh squeezed lime over the chicken upon serving. My husband and I as well as our guests loved this chicken. If you enjoy southwest flavoring and chicken you will love this chicken. Very easy!
Preheat oven to 375 degrees F. Or prepare grill for direct-and indirect-heat cooking.
Combine first 8 ingredients;reserve. Line roasting pan with foil. Rub sugar mixture over all sides of chicken;place in pan. Coat chicken with cooking spray.
Roast chicken in oven until no longer pink near bone, about 45-60 minutes.Or place chicken meaty side down over direct heat;cook until just browned, 4-5 minutes. Turn;place over indirect heat. Cover;cook until chicken is no longer pink near bone, 40-50 minutes. Transfer to serving platter;sprinkle with parsley. If desired, serve with lime wedges.