Somen (Cold Noodles) for Two
IOjaw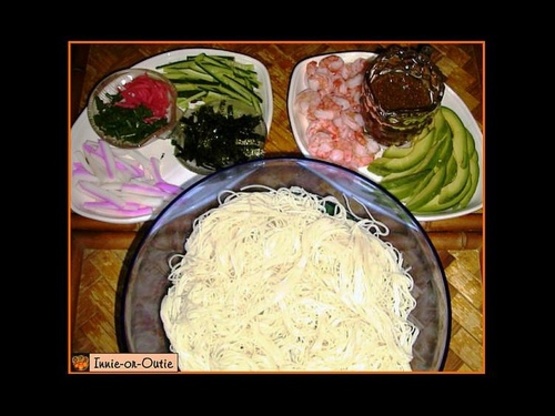 One of the most refreshing dishes someone can serve in the summer to beat the heat is cold noodles. This is my version for two of the ever popular local island entrée. ***Although this appears to be complicated, once you become accustomed to the ingredients, it's not. And it is ohhhhh soooo worth the time and simple preparation...
Dipping sauce

2

tablespoons sesame oil

1

tablespoon soy sauce

2

asian red peppers (minced)

3

tablespoons dashi (tsuyu, a cold noodle dipping sauce works best)

1

cup lime juice (freshly squeezed, I used the juice of a local citrus, shikwasa)

Dip Items

1

avocado (sliced)
1⁄2 cucumber (julienned)

1

cup frozen shrimp (shells removed)
3⁄4 cup kamaboko (julienned)

2

tablespoons pickled ginger

2

tablespoons scallions (chopped)

5

sheets nori (dried seaweed sheets, julienned)

140

g pasta (somen is best for this recipe)

Additional items

4

cups ice
Combine sesame oil, soy sauce, red peppers, tsuyu, and lime juice.
Mix well and refrigerate.
Chop and plate dipping items on a platter.
Steam shrimp.
Prepare somen according to directions (takes about 3 minutes once water is boiling).
Rinse under cold water in a strainer.
Place in a large bowl of ice.
Serve with platter and dipping sauce.
To eat, simply place a small quantity (about 1/5 cup) sauce in a small bowl or medium size glass and add the noodles and other ingredients.
***Reserve some of the dipping sauce for occasionally refreshing the dipping vessel fluid, which becomes slightly diluted from the noodle liquid.