Some Like It Hot...vichyssoise...some Like It Cold!
Junebug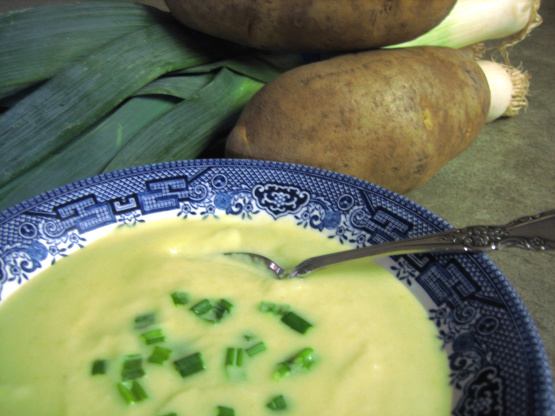 This is simple to prepare and makes a good potato soup. It can be prepared in advance up to the addition of the half and half. Just refrigerate at that point and when ready to serve add the half and half and serve or heat and serve. As the Title says, Some like it hot, some like it cold!

Top Review by Merlot
This is a great recipe for Vichyssoise. Hubby and I both loved it, but he made me heat it up (eye roll). Hot or cold, I highly recommend this dish to everyone....you won't be disappointed. It's easy to prepare too!!! Thanks AGAIN for another great recipe, Junebug.
Melt butter in your soup pot.
Saute leeks and onion in butter until they're a light yellow or golden color.
Add broth, potatoes and pepper.
Bring to a boil, reduce heat and simmer for about 20 minutes or until potatoes are done.
Using a blender or food processor run the soup, including all the liquid until it is velvety smooth. You may have to do this in batches.
Taste and adjust seasonings if necessary.
If serving cold or if you are making it in advance put in fridge until it's ready.
When ready to eat add the half and half and stir. You may need to add more half and half to get the consistency you like.
If eating it hot microwave or put it on the stove to reheat.
Add any garnish and enjoy.