Smothered Pork Chops and Grits
rosie316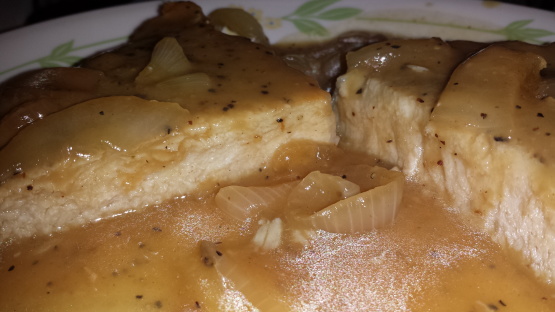 From Food Network Magazine - a wonderful Southern comfort meal.

I'm basing my review solely on the chops and flavor. I had 4 pork chops thawed in my fridge, and was looking for a quick recipe to whip up tonight. I used 2 of the chops to make a citrus marinated chop recipe (for another night), and I used the other 2 chops to make this recipe tonight. I have to say, this was a great way to make chops. They turned out very moist and tender (for being made in a skillet). I browned them for approx 4 mins per side. I tented them on a platter with foil and then sauteed the onion for about 7 mins. I continued the rest of the recipe as directed (heating chops about 5 mins in gravy). I can say that I was not thrilled with the Quick Grits ("Quaker" 5-minute White Hominy Grits), NO fault of the recipe, but I think next time I would make cheesy mashed potatoes or rice. (Just my opinion). Thanks for posting. (Made for PRMR)
Heat the oil in a large nonstick skillet over medium-high heat. Season the pork with 1/2 teaspoons salt and a few grinds of pepper; cook until browned, 3 minutes per side. Transfer to a plate.
Add the red onions to the skillet and season with salt. Cook, stirring until lightly browned, 3 minutes. Reduce the heat to medium; stir in the flour and cook, stirring 2 minutes. Add the chicken broth and bay leaf. Cook, stirring, until thickened, about 3 minutes. Add the vinegar, then return pork to the skillet to heat through.
Meanwhile, bring 2 1/4 cups water to a boil in a medium saucepan over medium-high heat. Add the grits and 1/2 teaspoons salt. Reduce the heat to low and cook, stirring, until thickened, 5 minutes. Stir in the cheese.
Remove the pork from the skillet; discard the bay leaf and stir the parsley in the pan sauce. Serve the pork with the grits. Top with the pan sauce and garnish with more parsley.