Parsley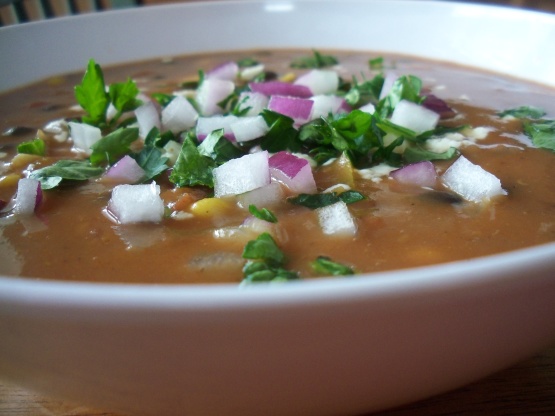 I got these vegan recipe from Dr. McDougall's Mobile Cookbook. I try to eat less meat and dairy just for overall health reasons... you don't miss them at all in this comfort soup! Everyone I have shared this with loves it, whether they are vegan, vegetarian or not.

My damily really enjoyed this recipe. I did use homemade refried beans though. This is definitely a keeper. Thanks for the recipe.
Heat a large, non-stick pot and saute the onion until it begins to brown (adding a little water if needed to prevent sticking). Add the garlic and bell pepper and cook for one more minute. Add all the remaining ingredients and cook until the flavors blend, about 20-30 minutes. **This soup has a thick, chili consistency**.
Serving suggestion: Garnish with fresh tomato salsa, avocado, tortilla chips. Be creative!
Use the minimum amounts of chili powder and hot sauce for a mild dish or add more to make it as hot as you dare.