teresas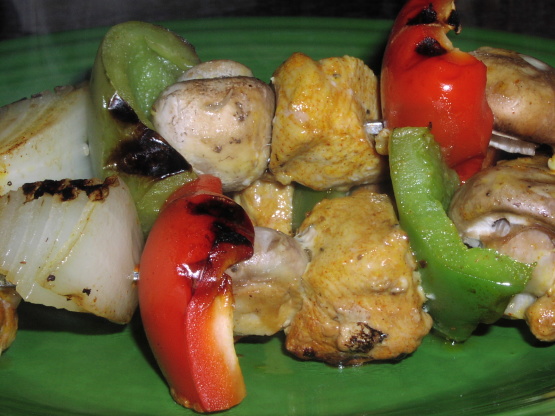 These are great kebabs. The curry flavouring is very delicate and there is just a hint of sweetness. Oh...can't wait...These are wonderful grilled on the BBQ and served with steamed jasmin rice and fresh fruit.

We loved the curry flavor...I used a smoked paprika...I wish I had let them marinade overnight...but I forgot tell the day of cooking them that they needed to marinade...I cooked mine on the George Foreman grill...these will be made again and the next time they will be hitting the out door grill...made for "For Your Consideration" tag game...
Marinade

1⁄2 cup oil

4

tablespoons vinegar white wine

2

cloves garlic, crushed

2

teaspoons paprika

2

teaspoons curry powder

2

tablespoons honey, clover,liquid

1

teaspoon lemon juice
1⁄2 teaspoon sea salt
1⁄4 teaspoon black pepper, fresh grind

6

boneless chicken breasts, cut into 2 inch pieces

1

large onion, sweet chopped,2 inch pieces
1 1⁄2 cups small mushrooms, whole

1

red pepper, chopped 2 inch pieces

1

green pepper, chopped 2 inch pieces

1

cup grape tomatoes, whole
1⁄4 cup cilantro, fresh,chopped (garnish) (optional)
In a non-metallic bowl, combine oil, vinegar, garlic, paprika, curry powder, honey, lemon juice, salt and pepper.
Mix marinade well.
Marinate chicken pieces for several hours or overnite, covered in the fridge.
Alternate chicken pieces and vegetables on metal skewers.
(wooden skewers that have been pre-soaked in water for at least 30 minutes, may be used).
Barbeque the kebabs for 10 minutes, turning frequently.
When ready to serve sprinkle with cilanto and enjoy.