Smokey Honey Glazed Chicken
davianng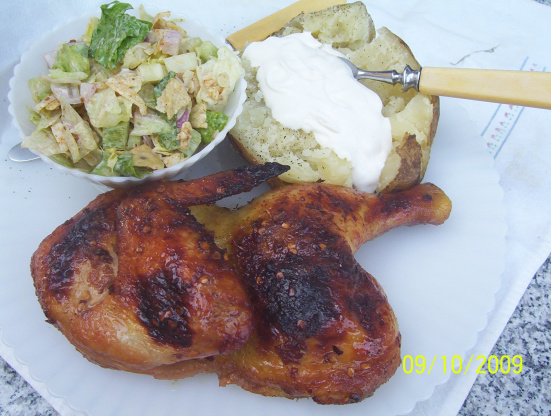 I made this up as a special at a restaurant I used to work at. It was a pretty good seller. I made it for my husband the other night and he loved it too.

I am trying this tomorrow, but I am marinating my chicken breast overnight in the sauce. From what I tasted of the sauce this is going to be absolute wonderful..... I also cut down on the butter and added more garlic.... I am only cooking for one so I don't need all that butter and chicken....
Cut chicken in half removing back bone. You will be working with two half chickens.
Cut three TBSP of butter off the stick and cut those into a small dice.
Pull back skin on chicken and rub the meat with salt, pepper, and the chopped garlic. Put the diced butter evenly under the skin and put the skin back in place. Season the top of the skin with salt and pepper.
In a small sauce pan melt the remaining butter, honey, liquid smoke and red pepper.
Place chicken in a roasting pan and pour half the butter mixture over the top.
Roast at 375°F for 20 minutes then pour the rest of the butter mixture over the chicken.
Continue cooking for about 30 more minutes, basting with the pan juices every 10 minutes.
Make sure the chicken thigh has reached 180°F before removing the chicken from the oven.