Smoked Salmon and Cream Cheese Omelet
ImPat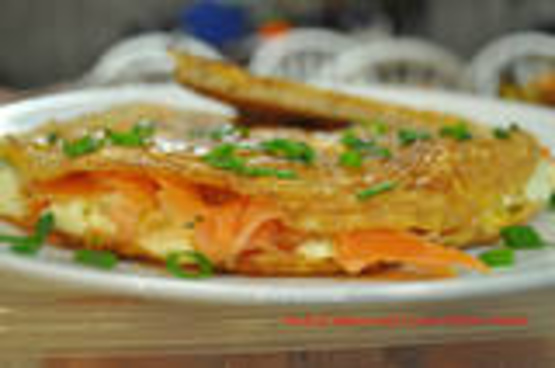 From Betty Crocker Easy Weeknight Meals March 2002, this sounds really simple and good.

Top Review by ImPat
I originally tagged this for my breakfast but it ended up as DM's dinner as we were having a hot curry which she hates but she loved this omelet and well it contained some of her favourites, smoked salmon, cream cheese and eggs (unfortunately my chives took a dive between tagging and making so had to sub finely spring onion for the chives - just mix them into the cream cheese) and oh she loved it so much that the toast (wholemeal/wholegrain buttered was pushed to one side and not eaten). Thank you lazyme, made for Photo Tag game.
Heat 2 teaspoons of the butter in 8-inch omelet pan or skillet over medium-high heat until butter is hot and sizzling.
Pour half of the beaten eggs (about 1 cup) into pan.
As mixture begins to set at bottom and side, gently lift cooked portions with spatula so that thin, uncooked portion can flow to bottom.
Avoid constant stirring.
Cook 3 to 4 minutes or until eggs are thickened throughout but still moist.
Spoon 1/4 cup of the cream cheese in dollops evenly over omelet; sprinkle with 1/2 cup of the salmon.
Tilt skillet and slip pancake turner under omelet to loosen.
Remove from heat.
Fold omelet in half; let stand 2 minutes.
Repeat with remaining ingredients.
Cut each omelet crosswise in half to serve; sprinkle with chives.