Smoked Chicken Sausage With Apples & Cabbage
PaulaG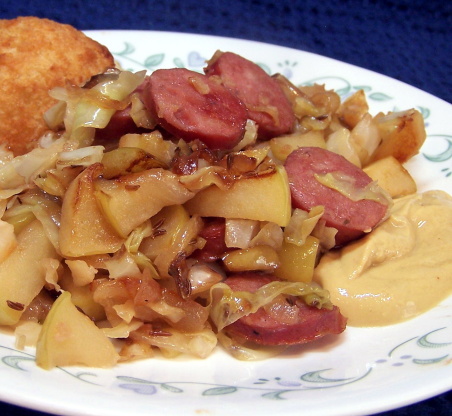 Wanted to try this chicken sausage, Was a little worried as hubby doesn't care for a lot of suprises. He actually liked this one.

What a simple and delicious meal! I used Grandessa sausage also...the only change that I made was to use half cider and half chicken broth. BF is not real fond of sweet main dishes. It turned our perfect and I will be making this one again! Thanks Katha for another fave to add to my cookbook.
In large saute pan with a lid,saute cabbage, onion& apple in margerine& oil until cabbage is tender about 15 minutes.
Add sausage.
Saute another 10-15 minutes.
Add apple cider simmer covered 10 minutes.
5 servings.
Serve with mashed potatoes& Dijon mustard if desired.