Slumber Party Baked French Toast
Bayhill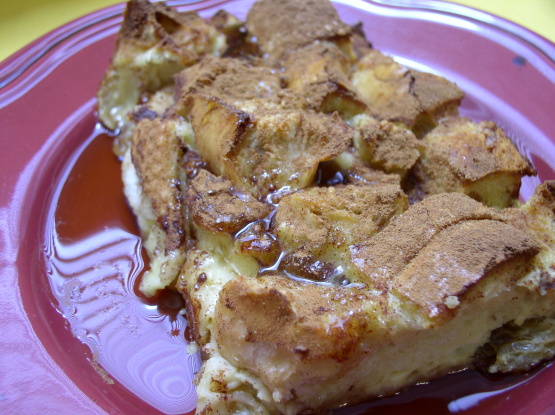 I prepared this late one night when my daughter had a sleepover for 10 girls. It was a big hit the next morning with warmed maple syrup. Next time I'll serve some sliced fruit or summer berries alongside. Prep time does not include overnight refrigeration.

Top Review by moe13a
I made it the same day, with old wheat bread slices, no fruit, and added a little butter into my blend and it was yummy. A much healthier way then 'frying' it in the pan with butter. A quicker clean up too. Will become the regular in my house. I sprinkle cinnamon sugar and flipped them half way. Just scrumptious!
Preheat oven to 300. Cut bread into 1-inch slices, then cubes. Spread on a large cookie sheet and toast for about 10 minutes, or just until dry. (If you're good at advance planning, you can cut the bread up to get stale earlier.).
Grease a 9x13 glass baking dish. Place the bread cubes evenly across the bottom, turning to fit the pieces. Scatter raisins or fruit evenly.
Beat eggs thoroughly with milk, syrup, and vanilla. Pour over bread, pressing down with spatula so all pieces are evenly soaked. Cover tightly and refrigerate overnight, or a minimum of 4 hours.
Preheat oven to 350. Remove pan from fridge & let stand at room temperature 15 minutes. Uncover and sprinkle with cinammon. Bake for 40-45 minutes. Toast will be puffed & lightly browned. Let stand 5 minutes before serving. Cut into 12 squares.