Easy Oven-Baked French Toast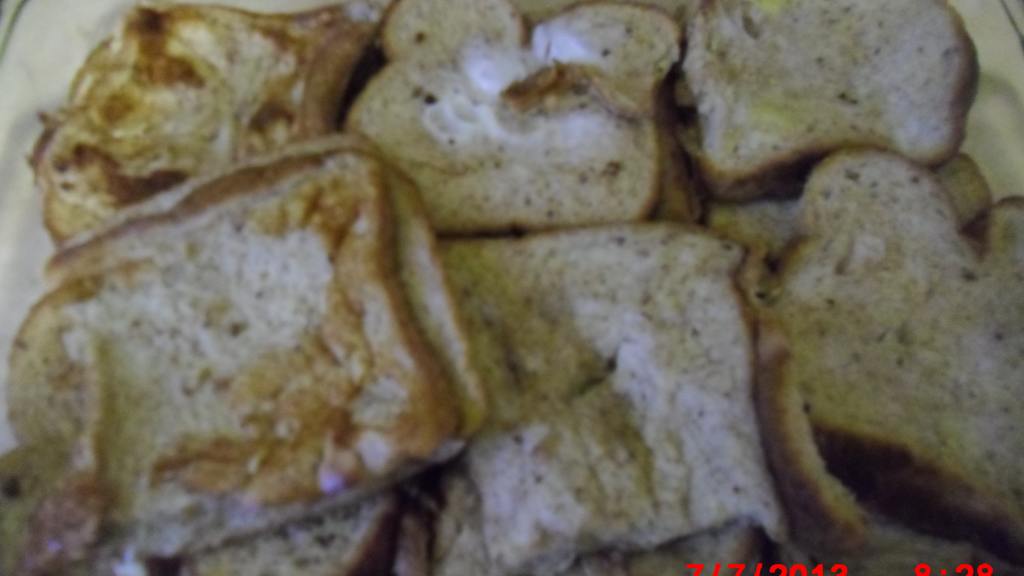 Ready In:

25mins

Ingredients:

7
directions
Adjust oven racks, one on lowest position and the other in the middle position.
Preheat oven to 425.
Grease 2 cookie sheets with 2 Tbsp.
of the above butter.
Beat eggs, milk, powdered sugar, vanilla and cinnamon.
Dip bread in the egg mixture and place on cookie sheets.
Cut remaining butter into pieces and scatter over bread.
Place on racks, bake for 7 minutes, switch cookie sheets and continue to bake for 8 minutes.
Sprinkle with a bit of powdered sugar when done.
Join The Conversation
A decent base but not good at all.... I tried it 1st following directions it was soggy / burnt & didn't even look edible. I tried it again half milk half cream, 1/2 a teaspoon all spice, 1/2 nutmeg, 1 teaspoon cinnamon, 1/4 cup brown sugar & 1 teaspoon vanilla extract then baked 375 for about 25-35 mins middle of the oven. It came out so much better :) But thanks for the base recipe didn't need much syrup either just some fresh caramel sauce & banana slices...

I tried this recipe because I forgot to start my usual overnight French toast last night. So I quickly searched an oven-baked French toast and found this one. I skimmed through the other reviews first and I read a lot that it was a bit bland. So I used this recipe as a base but added more to it. Instead of just milk, I used 3/4 C of half & half and 1/4 C of milk. I added a dash of nutmeg for more flavor. And I added 1/2 C of maple syrup to the mixture for more flavor. I didn't even see the part about adding powdered sugar to the mix, so I didn't. When I tried to soften the butter in the microwave, it ended up melting which was fine. I just used a spoon to pour the melted butter over the bread and it worked out well. I buttered the bread first then dipped it in the mixture. We used Texas Toast. It only covered about 8 pieces of bread for us but that's fine because we aren't a big family. I didn't bother moving the oven racks. And I didn't use a cookie sheet because that's dumb, and you'll end up with black bread. Instead, I used a glass baking dish and sprayed it with nonstick spray before adding the bread. I had some left over butter so I poured it over the top of the bread after it was all set. I did follow the directions and baked it at 425 degrees but it took a little longer than 15 minutes. I just watched it carefully until it turned golden brown. Good base recipe! But definitely needs to be tweaked to your own taste. And don't use metal cookie sheets. Use a baking dish and spray it first.