Slow Cooker Spicy Country Ribs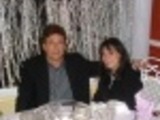 Really tasty, stick-to-your ribs (no pun intended) food! It comes together really nicely, and there is plenty of extra sauce to spoon onto your mashed potatoes.
Directions
Combine the onion, ketchup, vinegar, brown sugar, salt, Worcestershire, chili powder, and oregano in a 4- to 6-quart slow cooker. Stir in the ribs. Cook on low heat for 6 hours, or on high for 3-1/2 hours.
Using tongs, remove the ribs from the cooker and arrange on a broiler pan. Heat the broiler.
Pour the juices from the cooker into a bowl and place in the freezer for 10 minutes to hasten the separation of the fat. Remove and discard the fat. Pour the defatted juices into a saucepan; boil over high heat until reduced by half, about 15 minutes.
Broil the ribs about 6 inches from the heat until browned. Serve with the sauce.
Most Helpful
Such yummy ribs. These were simple and delicious. Thanks for sharing Jackie. Made for Culinary Quest 2014.

OOOOoo Great tasting ribs. Chose this ribs at one of the local supermarkets were on sale, and the rest of the ingredients I had on hand. Made this exactly as posted and cooked on high. Worked out perfectly, as I popped these in before I picked up the kids from school at 2 o clock. As for the recipe flavors were great and the end result was nicely falling of the bones. Thanks for the post. Made for PRMR tag

I am not giving this a rating as it is my fault for tagging this and not looking closely enough at the ingredient amounts. This has very similar ingredients to a recipe I use, but uses equal amounts of vinegar and ketchup, making it more of a vinegar BBQ sauce, which I think is common in the Carolina's. After tasting the sauce after about 1 hour of cooking, I added more of all ingredients except the vinegar and it worked out great. Just not fair to rate with my changes. Made for PRMR. Thanks for sharing this recipe Jackie as I know alot of people love this type of sauce, unfortunately not my kids.