Slow Cooked Beef in Pasta Sauce
ImPat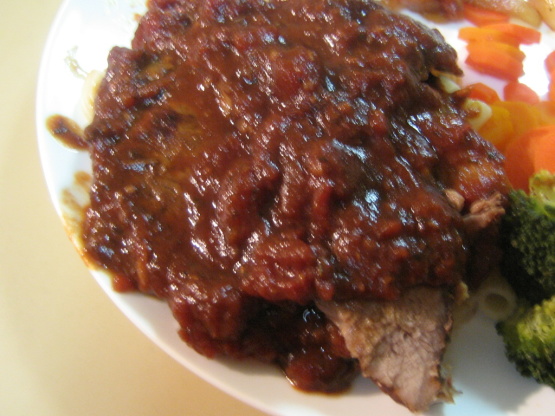 A whole piece of beef is slow cooked then sliced and served over pasta

Top Review by ImPat
Oh boy is this rich but oh just so good. I had a 1.14K boneless bolar blade but once cutting fat off was just under the 1k mark. It was well cooked (which is the way we like our beef) in 2 1/4 hours, was actually hoping to catch it before that point and having the sliced meat slightly pink for puting back into the delicious sauce but the meat was still tender as could be, even the DM gobbled all hers up. Due to allergy reasons before reducing I removed as much of the onion as I could - had cooked in large pieces and proceeded as per recipe. Served over small shell pasta shapes with steamed vegetables. Thank you JustJanS, made as a recipextra in Aussie Recipe Swap #26 - February 2009.
Trim excess fat from beef and season with black pepper.
Heat the oil in a heavy based pan and cook the onion and garlic until tender-about 5 minutes. Remove.
Add the beef to the pan. Turn, browning well all over.
Add the remaining ingredients (except the pasta) and stir to combine. Bring to the boil, then reduce heat to a simmer.
Cover and cook for 2 1/2 hours then remove meat to a warmed covered plate.
Increase heat under sauce and cook without a lid for 15 minutes or until reduced to a sauce consistency. Season with more black pepper if you wish.
Slice the meat and return to the sauce; serve over genrous portions of cooked pasta.