twissis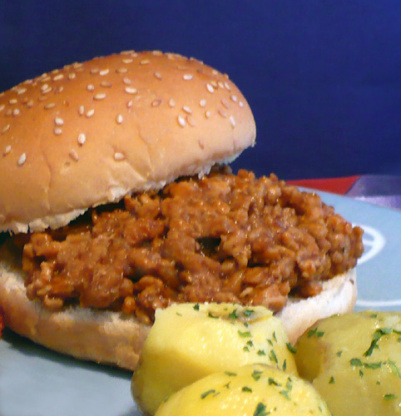 A very easy kid friendly sloppy joe recipe.

Made for Spring PAC 2010, I love Sloppy Joes & rarely find a recipe I do not enjoy. These SJs are very ingredient, budget, prep & family-friendly & I esp liked the use of the dry onion soup mix. I admit I skipped *rinsing* the browned meat as the grd beef I used was very lean & I was a little unclear about the need for that vs simply draining off any excess grease. IMO the # of servings is a real stretch. Allowing for the fact that cooking the meat will reduce its volume to a degree & adding the other ingredients will likely end w/a 16 oz yield .. 8 2-oz servings are pretty skimpy on std size buns. 4-6 servings seems the max to me as 4 would be roughly = to a quarter-lb burger. Those who prefer an expanded version w/more texture or need to stretch the # of servings can add bell pepper & chopped tomato or top w/cheese, but I did not find these SJs at all in need of adds. Thx for sharing this yummy SJ recipe w/us. :-)
Brown your meat and rinse out the grease.
Add the all the other ingredients and simmer on the stove at least 20 minutes or throw in a crockpot and cook on low till hot and serve on buns.