Skopelos Island Strapatsada (Eggs W/ Tomatoes & Peppers)
Leslie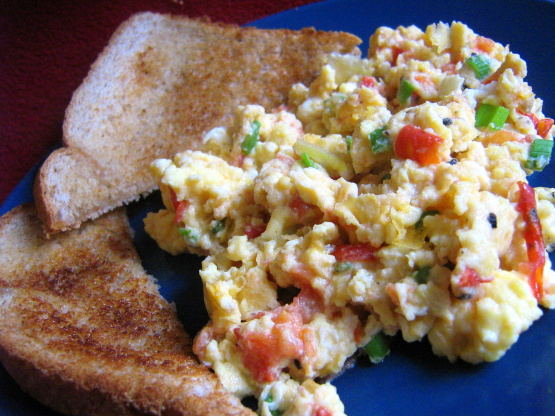 Scrambled Eggs with fresh tomatoes and peppers from Skopelos Island in Greece. Recipe posted for Zaar World Tour II. Found at Skopelos Net

I loved these eggs and everyone who I cook them for wants to know how to make this great egg dish...thanks so much...my girl friend just loves this recipe.
Gently cook tomatoes in a large frying pan for about 5 minutes.
Meanwhile, beat the eggs with a fork and put aside.
When half of the liquid evaporates from the tomatoes add pepper, salt, black pepper and sugar. Stir and gently simmer for 5 minutes. Add basil.
When all of the liquid evaporates, pour olive oil and beaten eggs evenly all over the tomato mixture, while stirring gently.
Cook slowly for a few minutes until the eggs are cooked but not too solid.
Serve with toasted slices of bread.